About Us
Why You Should Choose Excel Equipment!
Excel Equipment offers many advantages should you choose us for your VASC training needs. Apart from being a market leader with many years of experience in the petroleum field we are one of the few master distributors for VeriFone products. In order to better accommodate our students' needs we have just built a dedicated training room that is climate controlled and state of the art. Also, we are conveniently located in central Indiana just off of I-65. We are only 30 minutes away from the Indianapolis International Airport, and we are near two major hotel chains. To top off all of these great advantages we have one last bonus: you will be served home cooked lunches provided by us. We look forward to having you here at Excel Equipment!
Instructor
Bob Knapp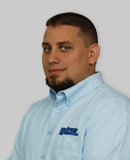 The instructor for these courses is Bob Knapp: a VeriFone certified instructor since 2009. Bob graduated from Central 9 Vocational School specializing in electronics. Besides his VeriFone certification and education, Bob is an active service technician certified on all major lines of petroleum equipment and has over 25 years of experience.
Contact Us
If you are interested in attending our classes please call us at 1-800-392-3513 and ask for Kristen Richards. We will get you the information you need in order to enroll in our courses!